Hits: 2
By Kenneth Books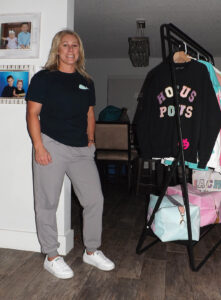 Jamie Hernandez wasn't born to a family of clothiers. She came about it in a roundabout way.
The Southern Illinois University graduate was a CrossFit instructor, helping clients to develop confidence and body awareness while performing movements that are natural for their bodies. But the idea of creating and selling fun, often quirky, clothing was dormant in the back of her mind.
"It has always been a passion of mine to have my own clothing brand and to be able to design the more beachy/tropical style I love not only for myself, but for my kids as well," Jamie writes on her website, pinkwavesapparel.com. "Living in Florida surrounded by our beautiful beaches, it's just our lifestyle. I personally screen print all graphics myself. I hope you enjoy them as much as us!"
But that was for the future. First, she married Jose Hernandez, a native Venezuelan, and moved to that country. Life there was not the same as it was where she grew up in Holt, Fla.
"It was scary," Jamie said. "Sometimes, I had to put up my hair and wear a hat so no one knew I was an American."
But Jose had visited Destin and liked it. So, they made their way to the Emerald Coast and settled in in in our city. About five years ago, they started J Lee Solutions, performing painting and gutter cleaning.
"One of my CrossFit clients told me about it," she says. "It was very stressful. There was no time to enjoy summer with my kids." They also started Southern Solutions Restorations, a business that includes mold remediation.
In the meantime, Jamie also created Pink Waves Apparel. The clothing is uniquely Jaimie's.
"I make all the clothes myself," she says.
In the beginning, the clothing was decorated by screen printing. But, now she has moved more toward embroidery, including patches. She also creates fun, colorful travel bags, clothing collections, sweat shirts, trucker hats and T shirts for the entire family, which she calls "beachy-chic, because life's too short to wear boring clothes." She taught herself to make and market the clothing.
"Creating is a passion of mine," she says of her business. "I do everything made to order."
One difficulty she has discovered is how hard it is to market exclusively online. "It's hard to get it out there," she says. "You have to put up money for ads, then finally release the product."
But Jamie has dreams.
"I'd love to be out there and have a warehouse. But, I still want to make clothes. I don't see a storefront. That's a lot of work and leaves no time for my kids." Those kids are Joimani, age 5, and Jiliana, age 2. One way she gets the word out is by participating in local events.
While many businesses are cutthroat, Pink Waves Apparel is more laid back.
"I don't see anyone as a competitor," she says. I always want to give back. I look for any way I can help."