Hits: 0
By Zandra Wolfgram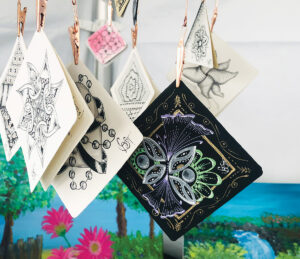 Zentangle is a form of meditative drawing that involves creating intricate patterns using simple strokes. The practice was created by Rick Roberts and Maria Thomas, who discovered that drawing repetitive patterns had a calming effect on the mind. Zentangle has since gained popularity around the world as a way to reduce stress and anxiety, while also promoting creativity and mindfulness.
After practicing Zentangle for many years, Charles Burkett became a Zentangle teacher in 2022; when Mattie Kelly Arts Foundation (MKAF) sponsored his certification coursework.
"It was our intention to "pay it forward" by empowering a veteran to become a certified CZT and connect with active duty and veteran military personnel as a peer," said MKAF Education Director Melanie Moore.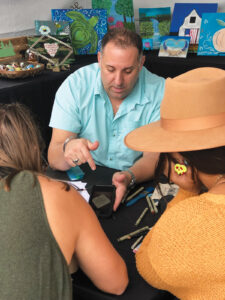 Collaborating with Burkett was a natural fit as he has a personal understanding of the benefits of Zentangle.
Burkett, proud to be raised in Walton County, enlisted in the U.S. Army at 17. He married his high school sweetheart, was stationed in Germany and in 1998 had a baby girl. They returned stateside in 2000. After serving 22 years, he retired as a Chief Warrant Officer 3 in 2013 and they returned to the local area.
In 2004, a devastating helicopter crash left Burkett with a Traumatic Brain Injury and extensive nerve damage, limiting most of his fine motor skills on his dominant right side. Fearing he may not regain full use of his hand, he used Zentangle for physical therapy and taught himself how to write with his left hand. Learning how to hold a pencil was the first step towards re-learning the same skills on his dominant hand. Starting with the letters of the alphabet, he progressed to drawing creative patterns and connecting lines to create images. Within months, he had regained 80 percent of his fine motor skills, and by the end of the year, he had full control of his right arm, hand, and fingers.
Zentangle worked wonders for Burkett who says, "You get to create a product from just relaxing and letting your mind expand."
The stress-free, no-fault method of creating beautiful patterns inspired him to share it with others. "Their mental and spiritual improvement was amazing," he says.
Today, Burkett is as a Certified Zentangle teacher for MKAF's Warrior Arts, a special ArtsReach initiative established by Moore in 2016. He teaches a variety of Zentangle classes both virtually and in-person since joining the program.
Burkett — who also teaches combat readiness, motorcycle safety, self-protection among other things — has taught introductory classes for mixed groups, combat vet support groups, and female vet support groups at the Okaloosa Vet Center. He has also taught virtual classes for the Bay County Vet Center female vet support group, the AFSOC Commando Caregivers/Warrior CARE summit, and the EOD Warrior Foundation. Burkett's virtual classes have reached military service members from around the world, including their spouses and caregivers, in both active duty and veteran roles.
When he isn't teaching Zentangle you can find Burkett scuba diving, parachuting, cross-country running, cross-fit training and caring for his family and ranch in Laurel Hill.
Burkett is inspired by those who have come before. "Living through history is such a cherished commodity. Watching things unfold before your eyes and cataloging events to share is priceless," he says.
This veteran commits fully to whatever he takes on. If you need a nudge, follow his motto: "Give 110 percent at whatever you are doing. Whether it's piloting a helicopter or sweeping the floor. Therefore, on those days that you don't feel like you are at your best, chances are your performance may have slipped "down" to 100 percent!"
MKAF's ArtsReach program is dedicated to bringing the arts to underserved communities throughout the region. Through partnerships with local schools, community centers, and other organizations, ArtsReach provides access to high-quality arts education and programming for people of all ages and backgrounds.
Through his classes, Burkett is helping people to tap into their creativity, reduce stress and anxiety and explore the world of art.
This year, Moore has scheduled more than 100 Zentangle and painting classes through the MKAF Warrior Arts program. In addition to Zentangle, the MKAF Warrior Arts program also offers classes in painting, jewelry making and comedy/improv.
When you support MKAF, you support heroic individuals like Charles Burkett. Not a member yet? Visit MKAF.org to learn more.