Hits: 10
By Julie A. Martin
It can be scary to be driving along one minute, and the next, either you've been run off the road, or spun out into the intersection, or even into a ditch. You or your passenger might even be injured, and need medical attention. Here is the short version of how to handle auto accidents so that you know you handled everything correctly and your stress level can come down.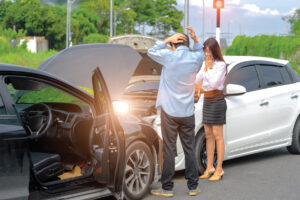 Pull over safely to the side of the road and call 911. Calling for help is the first essential step in making sure that any injuries are treated in a timely fashion, as well as making sure the police arrive to do a full accident report.
Take photos of the other vehicle(s) involved including the drivers, as the position of the vehicles, for your insurance company, so that there is photo evidence of all damage as well as an accurate representation of who was in which car, as well who was driving.
Make sure you have your license, registration and insurance information on hand. I recommend keeping a copy of your declarations page, your auto id cards and your registration in your glove box.
If your vehicle is not driveable after the accident, you have two choices. If you have AAA, you can have them pick up your vehicle and drop it off at your preferred auto repair shop. If you have towing on your auto policy, and the site of your accident is less than five miles away from your repair shop, you can potentially use the towing coverage on your policy for this accident.
If you are injured, go to the hospital to get checked out or your primary care physician, if your injuries are not serious. Personal Injury Protection in the state of Florida pays 80% of your $10,000 coverage, minus the deductible. This includes hospital bills, medical bills relating to your accident injuries, physical therapy, casts, crutches, etc. If you have medical payments on your policy as well, they will start where the Personal Injury Protection ends. If the at fault driver is not you, and they either have no bodily injury liability coverage, or not enough to cover your injuries, this is where uninsured/underinsured motorist coverage comes in. You insure for those times that you get hit, you're hurt, but the person who causes the accident does not have enough coverage to cover your medical expenses.
If you have not already called your insurance company to put in the claim, do so now, calling your agent and explaining to them what happened. Answer their questions and do not guess if you do not know the answer. Let them know that the police have been on the scene. Give them the case number the police give you and they will get the accident report when it becomes available. Write down the claim number and any other instructions the claims representative, and your agent give you for the accident.
Dear reader, we all get into a scrape from time to time, and hopefully this list is helpful when you need to know what to do. Call 850-424-6979.