Hits: 0
Painting with a Twist is FUN art, not FINE art! Connect with your friends in a warm, supportive and positive environment with wine, art and fun combined
Book a Private Party!
Yes! Whether it's a birthday, bachelorette, reunion, work event, get together, reunion or whatever group you're in, bring your whole crew for a unique, fun outing they'll never forget. Is it time for a Girls' Night Out? BYOW (bring your own wine-ages 18+) to a paint party that's a toast to your girl gang. Reserve your fun party time now online.
You focus on quality time and we'll handle the rest!
For the Kids!
Set your kiddo's creativity free with a new twist on fun! Book a birthday party, kids camp or Mommy & Me for ages 8 and up! A FULL week of Kids Camp starts July 17! Each day your child will leave with a completed painting. They will learn some basic art techniques, play games, listen to music and have time for a light snack. A FULL week: only $200.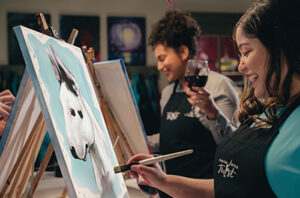 Paint Your Pet
Your furry (or scaly) friends deserve some love, too! Turn your pet's photo into a portrait with step-by-step instruction from amazing artists. On Fri., July 21 at 10 a.m. Paint Your Own Pet for kids during Kids Camp! Ages 8+. On Sun., July 30 from 2 to 5 p.m., paint your pet for ages 18 and up.
NEW! Add a candle to any event!
Make you own soy wax candle that burns 40 hours. Candles are soy and paraben free and scented with essential oils. Currently, there are 24 scents from which to choose from and they are ready by the end of class to take home! DYI Soy Candles can be added on for $20 to any event. Just show up 30 minutes prior to painting class. There are also pre-made candles that can be purchased any time when you need or want an extra gift for someone!
The July calendar offers a variety of paintings— from seasonally-inspired landscapes to decorative DIY wood board signs, funny self-portraits, Seaside sunsets, paint pour and more! Find a paint night theme that fits you, then reserve your spot online at paintingwithatwist.com/studio/fort-walton-beach/calendar.