By Liesel Schmidt
When Birmingham transplants Jeff and Donna Harris opened their running store 15 years ago, they were taking a very big leap of faith that, despite being in the midst of a nationwide economic recession, the venture they were launching would be a success. Originally opened in Navarre, Run With It spent a little over a year in the sleepy little bedroom community before they again made another leap and moved operations to Downtown Fort Walton Beach.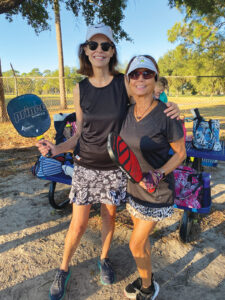 After spending more than two decades in the restaurant business, a running store was quite a change of venue for the Harrises, who have been married more than 30 years and have twin boys in their early 20s. Still, if you spend a little time with either Jeff or Donna, you'll understand in an instant why moving away from the restaurant industry and into the running space has been such a natural transition—and one that has been thriving.
Just shy of 60, Jeff, silver haired and compact, has the energetic disposition of a schoolboy. There's a twinkle in his eye as he speaks about the excitement he feels for his store and for everything he envisions for its future. Donna, petite and slim, is just as lively and personable as her husband. A native of Atlanta where the two met, Donna quickly moved to Birmingham, Jeff's hometown, where they opened and ran their own restaurant for 20 years. Having spent more than 30 years cultivating their ability to work together as a team, it's no wonder that this has translated so well into running their own businesses.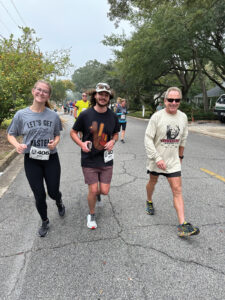 As great a departure as the running store space was for them, the Harrises can credit their expertise to the time they spent as apprentices to the owners of the Track Shack in Birmingham. After learning the ins and outs of the trade, Jeff and Donna felt confident in their ability to successfully move their family from Birmingham to Florida and open a store of their own. In the nearly 15 years they've owned Run With It, they have built a reputation for brand knowledge, customer service, expertise and quality goods. That translates into the customer experience as well as the company culture, and the success they've seen—even amid a shutdown during the pandemic—is a testimony to the Harrises' business savvy and the loyalty they have cultivated in the local community.
Now, they have once again taken the leap to relocate, with a move to 21 Racetrack Road, just down from Choctaw High School. "Downtown was really good to us, but we're excited about all the possibilities of the new location," says Jeff.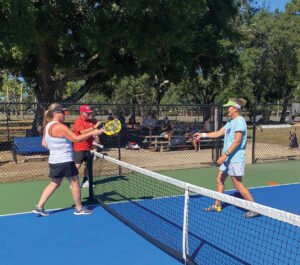 Part of those possibilities include "Pickleball at the Palms," a rebranding of the previous "Pickle With It" side of the company that was implemented in 2021. With such explosive growth in the popularity of pickleball over the past few years, the store's main focus of offering top line running shoes and apparel was extended to pickleball equipment and shoes. Along with the move, in fact, is an expansion that includes an indoor pickleball court that can be reserved for play, lessons and clinics as well as being rented out for private events. There will even be black light pickleball!
Their twin sons have both joined the business after graduating from the University of South Alabama, and are taking the business in new directions. The two have set up an online store that has been very successful since its inception three months ago. The future of Run With It – and the Harris family – look to be full of possibility.