Hits: 10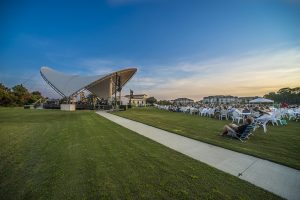 Mattie Kelly Arts Foundation (MKAF) kicked off its highly-anticipated 2023 Concerts in the Village Thursday, April 20. The area's first live concert series is held each spring on Thursday evenings at the MKAF Dugas Pavilion in Destin. This year's 28th annual family-friendly series will run from April 20 to June 22. The 10-concert live music series will feature premier regional and national musicians and bands performing everything from classic rock, reggae and disco to modern pop.
Here's a closer look at the lineup:
May 5 Ozomatl, cacophony of sounds melding salsa, jazz, funk, reggae and hip hop, takes the stage. This social-minded ensemble rock band formed in Los Angeles in 1995 to give voice to Latinos, fight for workers' rights and promote a global unity. After performing around the world, this Latin-pop infusion is ready to rock Destin. Tickets are $25 adults/$20 active-duty military.
May 11 will feature Lucky Chops – New Day, New Tour. Lucky Chops has been unleashing high-energy brassy funk on the world since forming in NYC in 2006. The intensity of the band's energy is fueled by their desire to share the healing and inspirational power of music with others. Tickets are $25 adults/$20 active-duty military.
May 18, get ready to chill with Yacht Rock Revue: Reverse Sunset Tour. This top-notch group of musicians, presented by SiriusXM, trademarked the term "yacht rock," both metaphorically and literally (U.S. Registration Number 3834195). From humble beginnings in a basement, they've rocked onstage with John Oates, Eddie Money and now headline sold-out shows across the country. Come chill to the smooth sounds of West coast-inspired '70s and '80s rock. Tickets are $35 adults/$30 active-duty military.
May 25, don't miss Sinfonia Gulf Coast Feat: Morgan James in Symphonic Soul, with special guest Ryan Shaw. Morgan James brings the classic sounds of Memphis accompanied by Sinfonia Gulf Coast. This program is a love letter to one of the great American birthplaces of soul, featuring brand-new arrangements of Memphis classics by Al Green, Otis Redding, Ann Peebles, Sam and Dave, and, of course, Elvis. James rounds out the evening with her own Memphis soul originals and storytelling. Hear your favorite soul tunes come to life in a brand-new way that will have you dancing and singing along! Tickets are $35 adults/$30 active-duty military.
June 1 Gotta Groove Band will put a fresh spin on popular cover tunes from the '60s to today. With outstanding vocals and top-shelf musicianship, they feature their own arrangements and mix many popular tunes together to create a fun flow of entertaining energy. You will not want to miss the party this Land O Lakes, Fla., band throws down. Tickets are $20 for adults/$15 for active-duty military.
June 8, Adam Ezra Group performs. Fusing folk intimacy and rock energy with soul power and pop charm, the band first emerged from Boston in the early 2000s and quickly garnered widespread acclaim for their bold, insightful songwriting and interactive, euphoric performances. Tickets are $20 adults/$15 active-duty military.
June 15, get ready to jam with Journeyman: A Tribute to Eric Clapton. At just 17, Shaun Hague was named "Best Young Blues Guitarist" by The House of Blues. By 21, he was sharing the stage with the likes of blues phenoms such as Kenny Wayne Shepherd, Amos Lee, John Waite, Terra Naomi and John Fogerty. In honor of his biggest musical influence (Eric Clapton), he and his three-member band have been making waves with their powerful live music performance. Tickets are $25 adults/$20 active-duty military.
June 22, Big Bad Voodoo Daddy swings into Destin. With appearances from the Hollywood Bowl to Lincoln Center, Big Bad Voodoo Daddy continues its decades-long mission to celebrate and revitalize jazz and swing music — America's original musical art form — and bring joy to audiences around the world. Tickets are $35 adults/$30 active-duty military. Enjoy a night under the stars at the most beautiful outdoor music venue on the Emerald Coast. Bring a bottle of wine, your favorite craft beer and a blanket or chair. Food and drinks are available for purchase from a rotating list of local food trucks. Tickets are $35 adults/$30 active-duty military.
Gates open at 6 p.m. with concerts beginning at 7 p.m. for this come-as-you-are family-friendly outdoor concert series. Bring a lawn chair, picnic, wine, or purchase food and beverages on-site prepared by featured restaurants and food trucks.
New this year, patrons purchasing tickets in advance of concert day will save $5 per ticket. Children (12 and under) are free. A limited number of VIP tables (reserved table for eight guests for the entire season) are available for $2,250. Corporate VIP tables are $2,750.
Proceeds will fund the MKAF's community outreach mission to provide cultural outreach programs serving K-12 students, adults and children with special needs, at-risk youth, and active/veteran military suffering from visible and invisible injuries in our community.
Purchase tickets online at MKAF.org/events. For more information, call (850) 650-2226.
MKAF members enjoy early entry and free admission to every concert as well as discounted pricing to other MKAF events. For more information on MKAF membership, visit MKAF.org.
Concert lineup is subject to change. All sales are final; sorry, no refunds. Pets, tables larger than two feet, and drones are not permitted. Children 17 and under must be accompanied by a parent or guardian.