There are three hallmarks of a great business: a trustworthy brand, a hard-working business owner dedicated to customer service and a team of highly trained professionals. When you choose businesses to work with, you deserve the best. Introducing Ryan Jackson, owner of Window Hero Pensacola-Destin – the only name you need when you're looking for professional, reliable exterior cleaning for your home or business.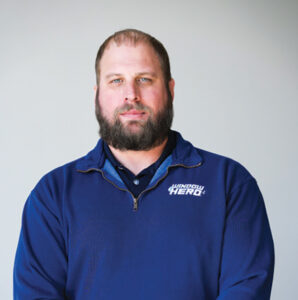 Founder Tyler Kirk started the business in Charlotte, NC, in 2006 under the name Labor Panes, offering window and pressure washing. In 2022, the company rebranded as Window Hero and expanded to serve even more customers with a franchise model. Since then, it has achieved rapid growth, and there are now 24 locations across six states. Window Hero's meteoric success comes from building strong relationships, responding to customer needs and adding value to their lives. It has extended the selection of services to better serve its customers, adding full-home and building exterior washing, window cleaning, gutter cleaning, gutter guard installation, roof washing, and solar panel cleaning. Window Hero has become the go-to company for quality exterior cleaning, earning a five-star rating on Google and thousands of satisfied customers.
Ryan Jackson is proud to serve the community as your local Window Hero owner. He graduated from the United States Naval Academy, followed by Naval Flight Officer training. Ryan served 24 years in the Navy flying combat operations during his deployment in Operation Enduring Freedom. After retiring from the military, he returned to the Emerald Coast to be a permanent part of the community he fell in love with while at NAS Pensacola for flight school from 2004-2006.
Window Hero allows Ryan to achieve a longtime goal: to own a business that supports initiatives to get involved in the community and create jobs that will enable employees to achieve personal and professional growth. Ryan knew he wanted to be a part of the Window Hero family when he read the core values of its parent company, HomeFront Brands: "Community – We make a difference in the community one person, friend, or neighbor at a time. Accountability – We do more than expected, by our own choice and our own will. Respect – We treat others as we would like to be treated. Excellence – We set high standards and rise to meet them. Service – We meet others' needs with a servant's heart."
Window Hero Pensacola-Destin has it all. It's a trusted brand with 17 years of experience, a local veteran business owner focused on giving back to the community, and a team of friendly, skilled technicians.
Make your home or business shine. Call your local pro, Ryan Jackson, at (850) 601-9609 for your free quote. Visit Windowhero.com/locations/pensacola-destin/ to find out more.