By Anna Fisher, Associate Artistic and Education Director
We're in the mood for love at Emerald Coast Theatre Company this winter! Grab your significant other or your favorite gal pals and come join us Feb. 14 for some Valentine's (or Galentine's) fun.
Featuring classic artists from the Tinseltown era like Sinatra, Ella Fitzgerald, and Judy Garland, the one-night-only Golden Age of Hollywood cabaret is a unique way to say "I love you."
Ticket packages include a bottle of wine or bubbly, a Valentines-themed charcuterie board and two tickets to the show.
Love continues to be a theme through February and March with at least four other opportunities to catch a show or event. "The Last Five Years" Feb. 10-19 is a beautiful musical about love and relationships by Jason Robert Brown that will stay with you long after the show is over.
Also coming up is the true blue classic "Steel Magnolias," Feb 24-March 5. This story of love and friendships that last through the hard times is always a great reminder of how precious life is.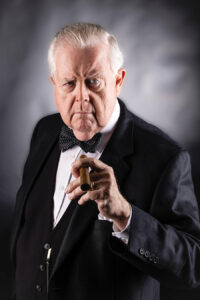 On March 7, Bruce Collier, is back on stage with his popular one-man production of "Winston Churchill: Through the Storm." The show takes place late in the evening of July 23, 1945, where, over brandy and cigars, Churchill reminisces about his personal and public life, the war and the possible future.
And since everyone loves a good laugh, March 11 is Comedy on The Boulevard, hosted by Jason Hedden, along with a hilarious crew of comedians.