By Lori Leath Smith, Publisher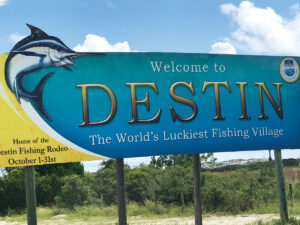 As the new year is now a reality, I have been thinking about our city's rich heritage and how it influences our local lifestyles today. It helps to know some of our history in order to appreciate our piece of Paradise and how far we've come. I wonder if early Destin pioneer Leonard Destin had any idea his small fishing village would one day become an iconic haven for locals and visitors.
We're located on the east side of our main waterway, the picturesque East Pass, which connects the Gulf to Choctawhatchee Bay, 30 miles long and four to six miles wide – a peninsula that was originally an island before hurricanes changed it over time. The East Pass was formed after a hurricane caused major flooding around the Choctawhatchee Bay in 1926, and to remedy this, locals began digging a path from Choctawhatchee Bay to the Gulf of Mexico. The flood waters then rushed through, creating it.
Our history dates back to the 7th century A.D. Artifacts confirm early Native Americans lived here due to the abundant seafood in our Bay and Gulf. Then Spanish explorers arrived approximately 900 years later. In the late 1700s and early 1800s, while Florida was still under Spanish rule, the Destin area was known as Moreno Point, named after Don Francisco Moreno.
In approximately 1845, Leonard Destin, who moved from New London, Conn., settled here after the first settlers, the McCullom family. (Leonard later married Martha McCullom.) An avid fisherman, for decades, he and other settlers fished and navigated the only channel passage to the Gulf of Mexico between Panama City and Pensacola, which continues to be an important part of our present-day community. Back then, they fished close to shore with seine nets from small boats. (You can see the oldest seine fishing boat on display at the Destin's History & Fishing Museum, The Primrose, a restored, 1920s-era boat.) Moreno Point became a federal military reservation in 1842, and in the 1850s, more settlers arrived.
At that time, our area was known as East Pass. In 1896, William Marler, who would eventually become the local postmaster, filed an application with the Post Office Department for a post office at East Pass on the western edge of our modern-day Destin. However, they wanted a single-word name. So, William, who had worked for Leonard, resubmitted the application with the name "Destin" after our early pioneer, and that's how we became Destin.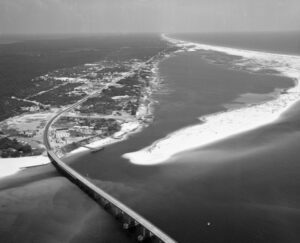 The original US-98, now much of it designated in our area as "Scenic 98," was constructed west from Panama City into Destin in the mid 1930s, and a bridge was built in 1936 across East Pass from Fort Walton Beach to Destin. With US-98 and the bridge, Destin became easily accessible, allowing the first tourists who loved to fish and enjoyed the crystal, white beaches to arrive. The first passenger-carrying fishing boat went into business in 1939.
By the way, our unique sand is among the whitest and most homogenous in the world. According to destinfwb.com, "At the end of the last Ice Age, the world's temperatures began warming, icecaps began melting and large volumes of water were carried by rivers to the world's oceans. The rising Apalachicola River, originating in the Appalachian Mountains, carried quartz particles down into the Gulf of Mexico and deposited them along the coast. Over time, the sea level rose, and the quartz sand formed the shoreline. The beautiful white sand remains cool to the touch, even in the heat of summer, and gives the water its trademark emerald color by reflecting sunlight back up through the surf."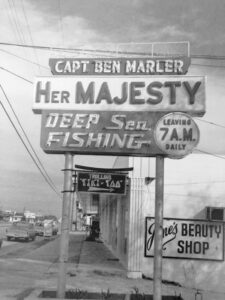 Eventually, we became known as "The World's Luckiest Fishing Village!" In 1956, the governor of Florida, Leroy Collins, was on his way to open the Pensacola State Fair. Encouraged by locals to visit the Destin Harbor, the governor complied; his staff was hoping for a few press photos and, so, he went. The way I understand it, the boat Captain Reddin "Salty" Brunson invited Collins to hop on for a boat ride. The governor said he didn't have time, but Captain Salty insisted and ensured that he could have the governor back on the docks in 15 minutes. Collins gave in and Captain Salty took Collins out the mouth of the pass and had him back to the docks in less than 15 minutes. Not only did Collins pose for photos that day, he actually reeled in a 29-lb. king mackerel after only a few minutes! A reporter teased him about it being hard to believe he could catch that big fish in such a short time. But, Collins reportedly replied, "Not if you're fishing out of Destin. Destin's the world's luckiest fishing village!" To this day, that has become Destin's tagline and our commercial fishing fleet is reportedly the largest in the U.S. Many feel the governor's visit was the beginning of Destin's charter fishing industries.
Though still a quiet fishing village with a population of about 1,000 in the 1960s, in the 1970s, a few condos began to pop up with even more coming on the scene in the 1980s. Tourism then became Destin's economic driver. The city of Destin was formally incorporated in 1984 and has become a beach tourism destination known all over the world.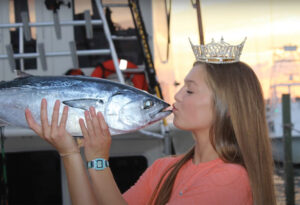 As locals, we enjoy its offerings year-round – water activities such as boat charters, snorkeling, deep sea fishing, dolphin-watching, sunset cruises and sailing. Our Choctawhatchee Bay is loaded with fish and shellfish, and we enjoy one-of-a-kind Destin events such as the Destin Fishing Rodeo, lighted boat parade, Blessing of the Fleet and the Destin Seafood Festival.
Our local favorite gathering spot is Crab Island, which is not really an island, but a shallow sandbar on the north side of our Marler Bridge, where the tide creates a gentle current from the Gulf, yet it's protected from the large waves that roll onto most of our beaches. Our own Destin Harbor, just north of the East Pass jetty, is protected by Norriego Point, which has recently doubled in size to prevent beach erosion.
Today, there are approximately 14,482 full-time Destin residents, according to U.S. Census estimates in 2020, but untold thousands who visit each year to enjoy the water sports, white sands, emerald green waters and our "Destin" lifestyle. According to the Florida Department of Environmental Protection, more than 80 percent of the Emerald Coast's 4.5 million visitors each year visit Destin. Numerous celebrities visit Destin, too.
Some folks say they can remember when the Destin McDonald's closed for the winter. Today, Destin-Fort Walton Beach Airport (VPS) is America's fastest growing airport; Destin-Fort Walton Beach is home to six sites along the Florida Panhandle Shipwreck Trail; we're home to nearly 200 fishing charters and eight area championship golf courses. Destin's Henderson Beach State Park is a 200-acre gem with 60 campsites and a winding nature trail that provides a rare view of some of the last remaining endangered coastal scrub communities in Northwest Florida.
As we move into 2023, I encourage you to take in and truly enjoy the people, the fishing, the visitors and just the plain beauty of our home, and, perhaps, continue to help make history in Destin. What will our next chapters look like?
Sources: Destin Fishing and History Museum, DestinFWB.com, worldpopulationreview.com, Destin Chamber of Commerce, Florida Department of Environmental Protection, Wickepedia.com, Floridamemory.com.