Hits: 0
Beachworx, the Emerald Coasts' premiere flexible real estate and coworking concept, is celebrating five years with an open house on International Coworking Day. Coworking day passes are discounted 50 percent Wednesday, Aug. 9, to give people the opportunity to experience the space. A networking event follows from 5-7 p.m., with catering from Hooters, desserts from former member Bon Vie Specialty Custom Cakes and Desserts, beer, wine and a champagne toast.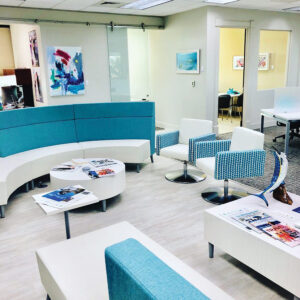 "We want to celebrate all the people who have helped us get to this point and welcome new faces who haven't yet realized the value a community like Beachworx offers," said CEO Steven Franco. "And we're excited to say that our success operating this business over the last five years has brought us to the next stage of growth – franchising this concept for landlords who want to convert their space to coworking."
Coworking is the flexible alternative to long-term real estate commitments.
"Coworking accommodates your business as it grows through the business life cycle," anco said. "The flexibility to scale up or down with 30 days' notice is critical to helping businesses realize cost savings."
Franco opened Beachworx in May 2018. The concept has gained traction with locals and tourists alike. Its open coworking area and hot desks are popular with tourists who, for $35 per day, can escape the condo and kids to access a professional office environment with reliable wifi, printing and teleconferencing amenities.
The Harbor conference room seats 10 at the boardroom table and can be rented for $50 per hour. "It's a great neutral ground for negotiating between two parties and a distraction free space for teams to meet and actually get work done," said Vice President of Operations Melissa Fertitta.
Persistent demand for private offices led Beachworx to expand its concept to the second floor of the Destin Commerce Center with the Beachworx Executive Suites.
"The original third floor space is, at its core, a community," Fertitta said. "There is usually a good bit of laughter and conversation in the kitchenette and soft seating area. The second floor is an attractive alternative for our more experienced office professionals. The aesthetic there is more traditional, dark wood, large executive desks. It's a popular option with our financial services members who appreciate the more subdued atmosphere."
Completed in April, the Beachworx Executive Suites features six large furnished suites from 198-363 square feet and is notably quieter than the main third floor coworking area.
The studio features a RODECaster Pro II switchboard, four Shure SM7B Cardioid Dynamic Vocal Microphones and four Shure SRH840 Closed-Back Over-Ear Professional Monitoring Headphones. The team points out these are the most fundamental elements for podcasting and for an additional fee, users can bring in their own video equipment to record their studio sessions. The studio is open to the public and can be rented for $120, per two hour time block.
Virtual memberships are another special offering. Virtual address memberships are a solution allowing businesses to build their digital marketing and online presence by using an address in the Destin Commerce Center.
"For $75 a month, you receive inbound mail, managed with an app that instructs us how to handle your mail and packages. Mail can also be forwarded to another address for additional fees. We are compliant with the USPS as a commercial mail receiving agent."
Virtual members also take advantage of the multiple signage options at Beachworx, which includes license display compliance and digital advertising facing Highway 98. "The DOT estimates the average daily traffic count is 52,000 drivers. That's 52,000 people who could be learning about your business whether you have an office in the space or you're a virtual member," said Fertitta.
Beachworx is open Monday – Friday, 8 a.m.-5 p.m. Find more information at www.thebeachworx.com.
To purchase your discounted International Coworking Day Pass, contact us at: info@thebeachworx.com.