Hits: 2
Holysmokes! 6.0 Community-Wide Amateur BBQ Cook-Off
It's time for Destin's 6th Annual Amateur BBQ Cook-off to be held Saturday, November 11, from 11 a.m.-2 p.m. in the parking lot of Immanuel Anglican Church. Amateur Teams from Home Inspection businesses to Family Groups will offer their best meats to sample. Taste them all then vote for your favorites!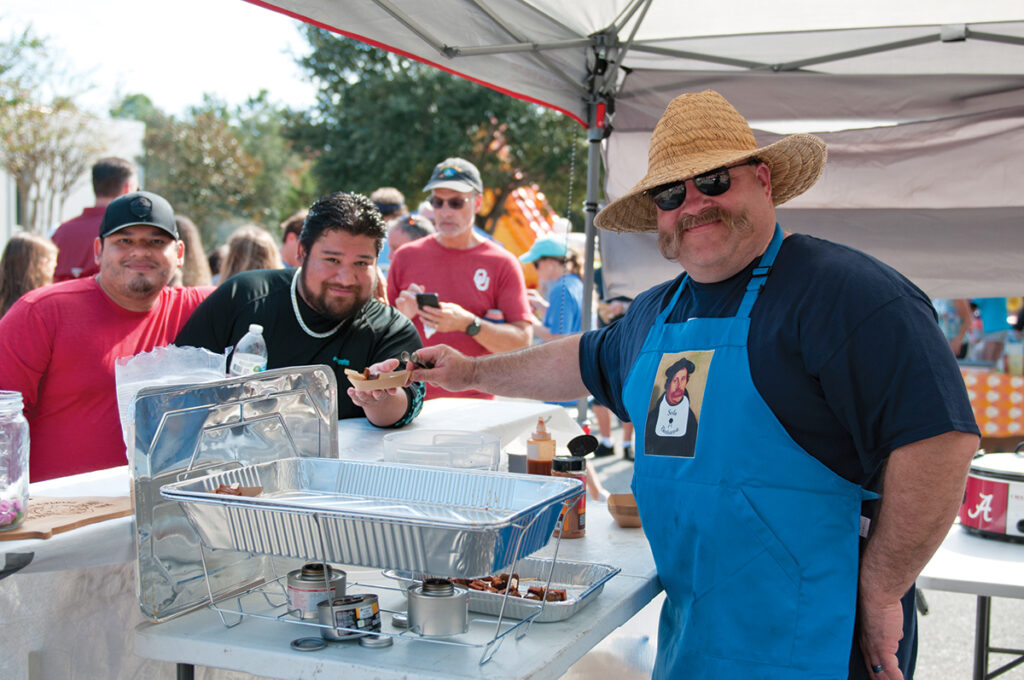 For admission, bring a monetary donation for Noah's Ark Preschool's Building Fund. There is no extra charge for tastings. Noah's Ark has had a lasting and positive impact on the lives of many Destin families since 1975. In 2022, the event's chosen charity, Harvest House, benefited more than $4,300 from the many sponsors, 13 Amateur BBQ Teams and nearly 400 attendees!
Awards will be given for Judges' Choice (first, second and third places), People's Choice (first, second and third) and Most Creative Station. New contenders BBQ Brothers (of Barefoot Beach Service), BBQ Master (of HouseMaster of Destin) and others will attempt to unseat last year's Judge's Choice champions, "Sola Barbacoa" and First Place People's Choice winners for a second year in a row, Sons of AmVets, Post 29!
Live music by acoustic pop trio Blackframe, a kid's play area and lots of friendly competition add to the lively fun day. A PKGO Portable Grill donated by The Local Market will be raffled off with proceeds to Noah's Ark Preschool.
Visit iacdestin.org/holy-smokes or call 850-837-6324. Teams and last-minute sponsors welcome. Immanuel Anglican Church, 250 Indian Bayou Trail, just north of Destin's Dog Park.
Harvest Wine & Food Festival Raises More Than $175,000 for Children in Need in NW Florida
Destin Charity Wine Auction Foundation (DCWAF) recently announced the 7th Annual Harvest Wine & Food Festival raised more than $175,000 for children in need in Northwest Florida. This year's festival featured an expanded schedule of 10 events including a cocktail seminar and elevated culinary and wine pairing event on Friday evening. The silent auction, hosted in conjunction with the festival, featured more than 100 packages comprised of rare wine, unique trips and experiences.
Produced by DCWAF, the net proceeds from Harvest Wine & Food Festival benefit the Foundation's mission of connecting wine enthusiasts to help children in need in Northwest Florida—17 Northwest Florida children's charities that assist at-risk youth by tackling a variety of issues including homelessness, food insecurity, mental health, education, medical care and much more. In August, DCWAF donated an impressive $3.4 million for its benefiting charities, bringing the combined total donated since inception to more than $32 million.
Eggs on the Beach Raises $44,500 Local Non-Profits
The 9th Annual Big Green Egg cooking competition, Eggs on the Beach, raised $44,500 for local non-profits. The event, which was held Oct. 14 at Seascape Towne Center, featured a diverse array of deliciously creative bites, including alligator, venison and lamb creations. Presented by Bay Breeze Patio, Eggs on the Beach hosted 22 cook teams competing for cash, prizes and trophies. Proceeds from the event were then divided between the winning non-profit cook teams and the two benefiting charities, Food for Thought and Fisher House of the Emerald Coast. This year, both received an $18,500 donation to support their mission.
The non-profit cook teams were awarded a cash donation toward their cause. First place: Healing Paws for Warriors partnered with Swiftly Catered presenting a Trinidad Spice Pork Tenderloin, Bourbon Caramel Balsamic Apple with a Grilled Pear Cobbler with Sweet Potato Pone Cake with Candied Pecans & Bourbon Cane Syrup, which earned the nonprofit $3,500; Second place: South Walton Academy The Eggstras presented Bacon Wrapped Venison with Banana Pepper, which earned a $2,500 donation. Third place: The Brotherhood of Distinguished Gentleman: Walton County Juvenile Justice presented Smoked Brisket on Biscuit with Pickled Onion, which allowed them to achieve $1,500 for their nonprofit.
Emerald Coast Storytellers Presents Story-Pairing Dinner at Henderson Beach Resort
On November 16th at 6 p.m., the picturesque Henderson Beach Resort will be the backdrop for an unforgettable evening of human connection and culinary delight.
The concept, a first of its kind, intertwines the age-old traditions of live, communal storytelling and the pleasure of savoring a delicious meal among strangers turned friends. Each course will be accompanied by tales spun around the theme of "Letters to Our Younger Selves," aiming to transport attendees on a journey through time, peppered with personal anecdotes, life lessons, and nostalgic reflections, reminding us all of what it means to be human.
In addition to a fabulous prix fixe menu from The Henderson, featuring entrée choices like butter seared beef tenderloin, goat cheese crusted chicken and a free form lasagna with local vegetables, local storytellers will be handpicked to share their prose, poetry and spoken tales. All of this will lead to the night's Featured Storyteller, Abe Partridge, a heralded musician, singer-songwriter, visual artist, and podcaster based in Mobile, Alabama. Regarded by American Songwriter Magazine as "one of the most respected songwriters and visual folk artists in the southeast," Partridge will offer a glimpse into his own inspiring journey. To learn more and purchase your tickets, visit www.emeraldcoaststorytellers.com.