Hits: 0
Fort Walton Beach local and University of Florida College of the Arts BFA senior, Ora Wolfgram, presented her first solo art exhibit titled "Florida: A Familiar Fantasy" at the GFAA Gallery in Gainesville.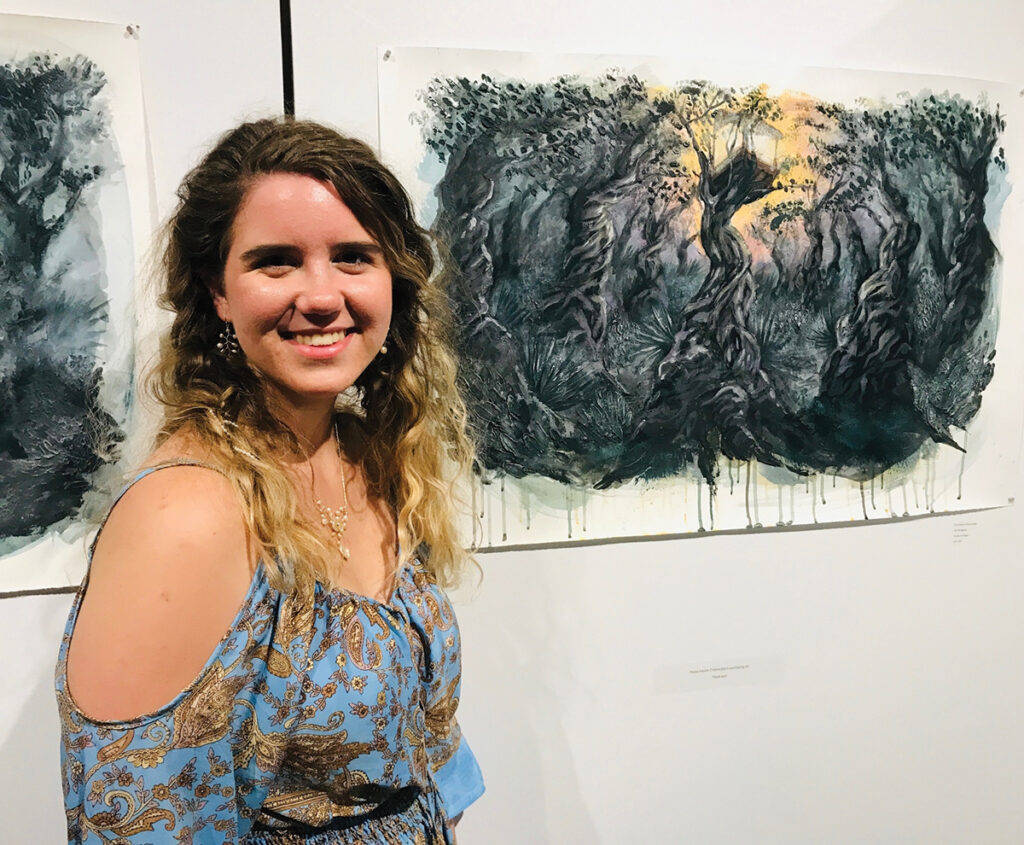 The exhibition showcased eight mixed media landscape paintings ranging from 24" x 36" to 84" x 48" illustrating the extremes of the coastal environment of Northwest Florida. Wolfgram's work depicts her experience of living on Okaloosa Island, a barrier island located in Northwest Florida.
In her artist statement, she said, "The works I created are part of a series to illustrate an escapist fantasy based on living along the Gulf Coast in Northwest Florida. Each painting captures a different experience from living on Okaloosa Island—highlighting the impressiveness of the natural flora that can easily shift from a peaceful and inviting to rageful and frightening."
The exhibit ran from April 18 to April 22 with an evening gallery reception on April 21. The reception was attended by 87 people, including family, friends, Fort Walton Beach High School alumni, and fellow University of Florida students and professors.
Wolfgram's artwork has previously appeared in several art shows, including the DAMN Art Show (2023), the Mattie Kelly Arts Foundation (MKAF) Collaborative Art Exhibit (2023), the SA&AH Briccetti Exhibition (2022), and the WARP Student Exhibition (2020). As a high school senior, Wolfgram won the MKAF Festival of the Arts Best in Show Collaborative Art Exhibit award (2018). She was the first student invited to exhibit in the Destin Banner Art Beautification Project. When she graduated Fort Walton Beach High School in 2019, she was the most awarded art student in the school's history.
"I'm grateful to my family and friends who attended to support me, as well as my professors, Julia and Bethany," said Wolfgram. "They've done an incredible job guiding me and my classmates in understanding where we want to position ourselves with our art and in the art world."
Wolfgram, 21, a native of Fort Walton Beach, will be graduating summa cum laude with a BFA in drawing and a minor in art history in May. A credited costume designer and advocate of the performing arts, she plans to return to Northwest Florida, where she will work as a production assistant for the Emerald Coast Theatre Company.
To view artwork by Wolfgram, follow her on Instagram @Art_by_Orabel.