Hits: 8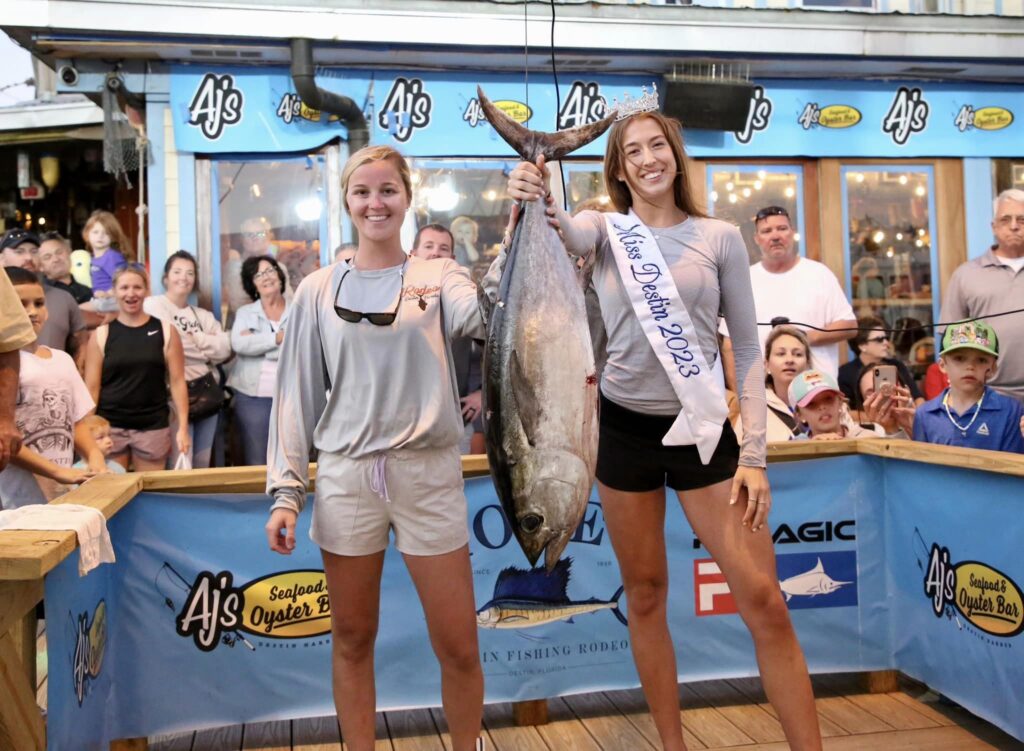 Come to the docks for the best spectator sport this time of year! On any given day in October, anywhere from 250 to 1500 folks show up behind A.J.'s Seafood & Oyster Bar to see what is being brought to the scales. Let word get out that there is a rodeo record, a shark or a giant Grouper or Tuna being brought to the scales and it's standing room only as spectators clamor for a close up look at a massive fish!
But the Rodeo is more than a fishing tournament—it's a chance to meet up with old friends on the docks or mingle and make new ones. Witness some of the most beautiful sunsets you could only imagine each evening on the Harbor as you watch the boats come in with their catches at the scales. Taste some of the local cuisine right off the grill or listen to some of the local artists playing right down on the docks — even after the scales close at 7 p.m.
Stroll from one end of Harbor to the other on Destin's boardwalk that takes you right along the water front and an opportunity to see those fish first hand as they come off the boats. Buy and take home the newest in Rodeo wear from short-sleeve to long-sleeve T's, jackets and even a cap or two. See that youngster when he comes in with his first fish and see his smile widen when he gets a free rod and reel along with a certificate. Have your photo taken with Miss Destin or listen to weighmaster Bruce Cheves spin another fish tale.
This is just a sampling of all that the Rodeo is. So, come on down and give it a chance. You're sure to get hooked!
Rodeo Events
75th Annual Destin Fishing Rodeo (October 1st – 31st)
Join the 75th Annual Destin Fishing Rodeo. Weigh-Ins are everyday behind A.J.'s from 10 a.m. – 7 p.m.
45th Annual Destin Seafood Festival (October 6th, 7th, & 8th).
Live music on multiple stages all three days of the event! Admission is FREE. Good times – Priceless!
Destin 5K Rodeo Run (Sunday, October 8th)
Starts at the picturesque Clement Taylor Park on the beautiful Choctawhatchee Bay, meanders through historic Destin neighborhoods and ends back at the park. Proceeds benefit the Miss Destin Scholarship Fund. Contact kimmymeyers@yahoo.com for more information or register online at www.active.com.
Kids Fall Movie Festival (Monday, October 9th)
School is out and A.J.'s will be showing a FREE movie on the famous JumboTron! Kids will be treated to hot dogs, popcorn and snow cones! For more details, visit www.ajsdestin.com.
Bruce Cheves Day (Monday, October 16th)
Celebrate the day the City of Destin has declared BRUCE CHEVES DAY at the docks! The weighmaster will be holding court (not in court!) and telling his best tales.
Ringing of the Bell (Monday, October 16th)
Each year 5 p.m. on Bruce Cheves Day, the Rodeo celebrates the lives and legends of those we lost this year.
Larry Hatchett Fishing Foundation Day (Saturday, October 21st)
Each October, The Larry Hatchett Fishing Foundation brings in children from foster situations to fish and learn about marine habitats and environmental awareness.
Halloween on the Harbor! (Tuesday, October 31st)
Wear your costume and join rodeo captains, anglers, rodeo judges, Miss Destin and volunteers to be a part of the largest Halloween Party in Destin.
November 2023
75th Annual Destin Fishing Rodeo Awards (Sunday, November 5th)
At 4 p.m., the lucky anglers, captains and mates will be given their prizes in a festive, fun, casual gathering downstairs at A.J.'s!
For more information on these events please visit the rodeo website at www.destinfishingrodeo.org or A.J.'s at www.ajsdestin.com.