Hits: 68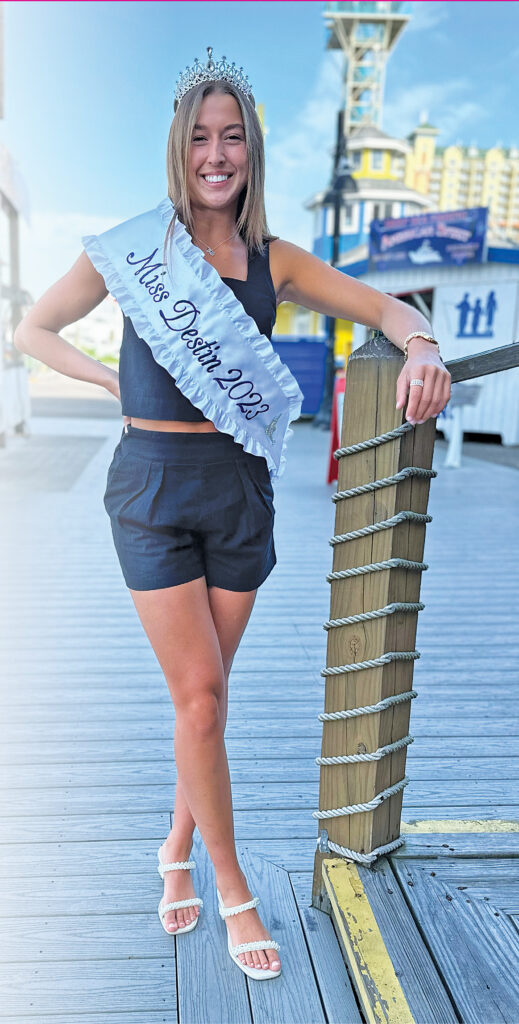 Hey! My name is Carrington Phillips and what an honor and privilege it is to be chosen as Miss Destin 2023! I am the daughter of a Destin charter boat captain, and the sister of two first mates, one being my twin brother. I am the youngest of nine children to Captain Stan Phillips and Shawn Phillips. The fishing and charter boat industry are huge parts of this community as well as my home life, and I support them wholeheartedly. Fishing is the backbone to this community as well as my family.
I was born and raised in Destin, and I am a member of the first graduating class of Destin High School, the Class of 2023. Being in the first graduating class marks a moment in time that can't be repeated or replaced. As the first Miss Destin from Destin High School, I hope future graduates will represent the school by getting involved in our amazing community. As Miss Destin, I hope to be an excellent Christian role model to others, while interacting with the public in a positive manner by supporting Destin's history and traditions.
Growing up in Destin, I have always been involved in community activities. I played Destin Little League softball, City of Destin basketball and soccer, Upward basketball and participated in cheerleading at Destin United Methodist Church, as well as Destin Middle School basketball, cross country and flag football. I enjoy spending my free time working out in the gym, going on bike rides and taking long walks in my community that I feel blessed to live in.
My passion is health and fitness, and I plan to continue my studies locally at Northwest Florida State College for the first two years before transferring to the University of West Florida to become an athletic trainer. My goals and ambitions are to pursue a career in the health and fitness industry, as well as obtain my certification in personal training.
October is an amazing month for our lucky fishing village. This is a special time in our hometown where locals and visitors from near and far come together for the love of fishing and, of course, to catch "the big one!" I can't wait to experience being Miss Destin during the 75th Annual Fishing Rodeo. Please come by and say hello to me at the weigh-ins. I will be there all month long during this exciting time.