Hits: 7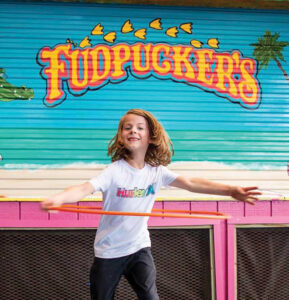 Spanning a remarkable 42-year history, Fudpucker's Beachside Bar & Grill is a treasure trove of stories. Whether it's stories of love at first sight, exuberant nights spent dancing with lifelong friends, celebrations that turned into marriage proposals, or even the heartbreaking episodes that accompany life's twists and turns—everyone has a Fudpucker's story to tell.
Long-time residents, vacationers, and even passersby in the Emerald Coast area are likely to share a memorable experience connected to this iconic location.
My Story
My own Fudpucker's journey began back in 1992 and it still continues to unfold today. For those who recall the vibrant '90s, Fudpucker's was the go-to spot for electrifying late-night escapades. Both The Big Deck and the Down Under Bar teemed with activity; the drinks were potent, the atmosphere electric, and the company always enjoyable.
Fudpucker's was the epicenter for events, hosting everything from sizzling bikini contests to unbeatable "$2 Anything" drink specials. Top-tier bands like Miss Demeanor and Black Eyed Blonde often graced the stage.
In a twist of fate that still warms my heart, it was at Fudpucker's where I had my first date with the woman who would become my wife—a marriage that's been going strong for a quarter-century. Our family's legacy with Fudpucker's has come full circle; all my children had their first jobs there, and I've proudly been part of the Fudpucker's team for nine seasons myself.
The Gulf Coast's Story
Over its 42-year existence, Fudpucker's has woven itself into the very fabric of the Gulf Coast community. Starting as a snack bar at Nightown to it's original beachside location along Scenic Highway 98 and the distinctive settings on Okaloosa Island, South Walton County and in Destin, Fudpucker's stands as a stalwart symbol of the vibrant destination that is the Emerald Coast.
The legendary green doors of Fudpucker's have welcomed countless visitors, offering some of the best food and fun the area has to offer. The venue's transformation from a late-night bar to a family-friendly dining and entertainment complex—complete with Northwest Florida's only Alligator Park—ensures that it continues to cater to a diverse crowd.
Father Fud, the whimsical and ever-entertaining patriarch of Fudpucker's, often jests, "Fudpucker's has served so many people that there's likely a World Famous Fudpucker T-shirt in every corner of the globe!" While this might be an exaggeration, the sentiment holds true. Visitors enjoy their time at Fudpucker's so much that they often want to take a slice of that experience home with them, typically in the form of one of their best-selling t-shirts, with the catchy slogan: "Ya Ain't Been Pucked, Till Ya Been Fudpucked."
Patron's Stories
Two particular stories stand out for me. The first involves a couple celebrating their 15th anniversary at Fudpucker's. I was utterly astonished when they revealed they had commemorated every single anniversary with a special dinner at Fudpucker's since their wedding day.
The second one concerns a long-standing tradition of signing the walls at Fudpucker's. I once helped a large family find a marker for their young children to add their signatures beside those of relatives whose inked contributions spanned two decades. This tradition is more than ink on the wall—it's a testament to generations of cherished family moments.
These compelling tales encapsulate Fudpucker's undeniable "X-Factor." They represent the myriad memories forged within these walls—whether it's the thrill of holding an alligator for the first time, the joy of sharing this unique spot with friends and family, or even the simple act of inscribing your name alongside countless others on the walls of Fudpucker's Beachside Bar & Grill.
Your Story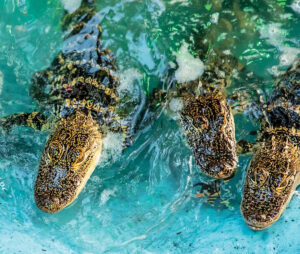 If you haven't been to Fudpucker's in a while, stop on by and enjoy what the visitors to Destin enjoy. Bring your family, eat some food, have some fun, and see some gators! And don't forget to leave your mark on the walls at Fudpucker's.
So, Fudpucker's has a story. What's yours?
Visit us at 20001 Emerald Coast Pkwy. in Destin. Visit us on the web at www.Fudpucker.com/your-story.