Hits: 16
15th Annual Baytowne Wharf Beer Festival
Friday, Oct. 6, 6-8 p.m.; Saturday, Oct. 7, 2-5 p.m.
Tickets on sale now at baytownebeerfestival.com.
Time to roll out the barrel and discover unique suds and ales. The Village of Baytowne Wharf at Sandestin presents the 15th Annual Baytowne Wharf Beer Fest Oct. 6-7. American specialty beers from throughout the nation will be available for participants to sample and savor. The grand, craft beer tasting event on Saturday, Oct. 7, will feature more than 200 domestic and international craft beers available for sampling. For tickets, visit baytownebeerfestival.com
Tribute Weekend
Friday, Nov. 3-Sunday, Nov. 5
Make plans now to be in the Village of Baytowne Wharf for Tribute Weekend. Rock out the weekend and enjoy live music from great tribute bands. Grab your blankets and lawn chairs and meet on the events plaza lawn for a jam-packed weekend of incredible talent.
Friday, Nov. 3 | 7-9 p.m.
Saturday, Nov. 4 | 7-9 p.m.
Sunday, Nov. 5 | 2-4 p.m.
Admission is free.
The Village of Baytowne Wharf October Events
The Farmers Market at Baytowne Wharf
Saturdays and Sundays through Dec. 31, 10 a.m.-2 p.m. Free.
Local small businesses bring a brand-new farmers market to Sandestin's Village of Baytowne Wharf. Come shop with local farmers, bakers, local fresh seafood and gourmet, beef, local honey, fresh pressed juices and much more!
The Village of BOOtowne Wharf
Sunday, Oct. 1 – Tuesday, Oct. 31
Stroll through the haunted streets of Baytowne Wharf the whole month of October! Visit the Haunted Courtyard if you dare or swing by Baytowne Adventure Zone's graveyard for a freaky good time. Be sure to tag us in all your spooktacular pictures by using @baytownewharf!
Wednesday Night Concert Series
Wednesdays, Oct. 4-25, 7-9 p.m. Free.
This fall, sit back and relax and enjoy live entertainment. The concert series will feature local and regional talent from a variety of genres. Live music concert begins at 7 p.m. on the Events Plaza Stage.
Oct. 4: The HooDoos
Oct. 11: Below Alabama
Oct. 18: Casey Kearney
Oct. 25: Forrest Williams Band
Bubbly Baytowne
Thursday, Oct. 19, 5 p.m. Free.
Bubbly Baytowne is back! Who's ready to sip and shop through The Village streets? Join us for an evening full of free champagne and shopping during Bubbly Baytowne. Check in by the fountain to receive your complimentary Baytowne Wharf glass and a map outlining specific merchants to visit starting at 5 p.m.
*This event is free and for 21 and up only. The village will be open to the public during this event.
Throwback Thursday Cinema | Halloween Town
Thursday, Oct. 27, 7 p.m. Free.
We are throwing back to some of your favorite films this fall. Enjoy a movie on the big screen during our Throwback Thursday Cinema. All movies are family-friendly and open to the public. Grab your blankets and lawn chairs and enjoy this week's featured film, Halloween Town.
.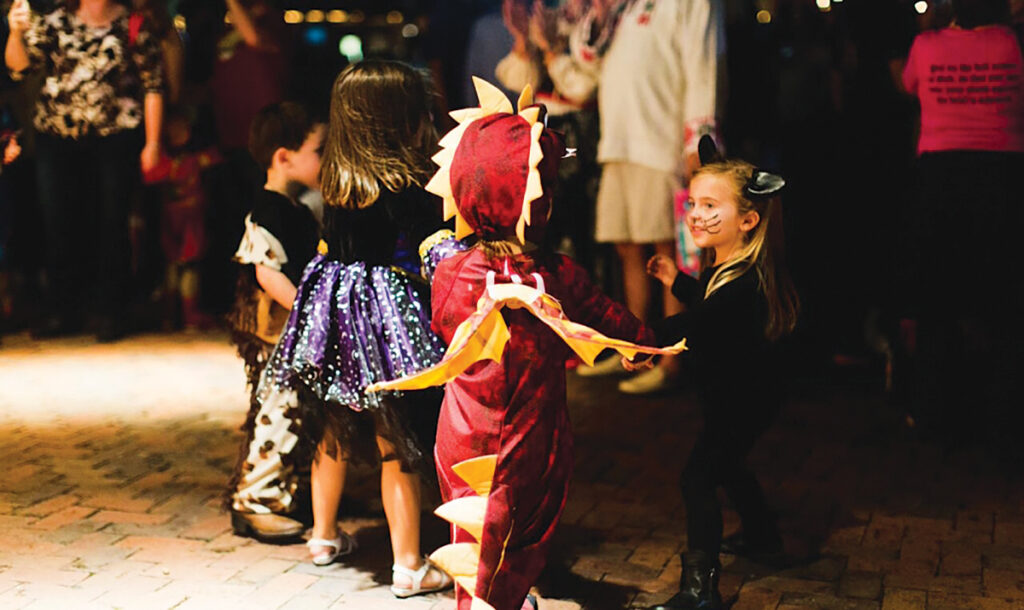 Trick or Treat Street
Tuesday, Oct. 31, 6-8 p.m. Free.
Calling all ghouls, ghosts and goblins to the Village of Baytowne Wharf for a spooktacular extravaganza! This Halloween, trick or treat through the Village streets and visit merchants for your favorite treat. Steve Hall will play frighteningly good tunes on the main stage. Enjoy crafts and balloon animals. Be sure to stop by Coconut Kidz to enter the costume contest and compete to win the grand prize! End the night with a spooky fireworks display at 8 p.m.