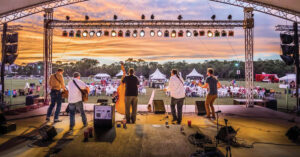 Mattie Kelly Arts Foundation announces the lineup for its 2023 Concerts in the Village
The 28th annual 10-concert Live Music Series Thursdays from April 20 to June 22 will feature premier musicians and bands performing everything from classic rock reggae and disco to modern pop and a live orchestra performance by Sinfonia Gulf Coast.
The concert series is held at the MKAF Dugas Pavilion in Destin.
The series kicks off April 20, with must-not-miss entertainers Post Modern Jukebox, celebrating vintage music and pop culture.
The season will include a new Memphis-infused show by Broadway singer Morgan James, accompanied by Sinfonia Gulf Coast; fan favorites Roman Street Party Band, Adam Ezra and the Gotta Groove Band, as well as Latin-fusion band Ozomatli, the high-energy brassy funk of Lucky Chops, the chill sounds of Yacht Rock Revue and gifted guitar player Shaun Hague playing tribute to guitar legend Eric Clapton. The series caps on June 22, with a performance by Big Bad Voodoo Daddy.
Enjoy a night under the stars at the most beautiful outdoor music venue on the Emerald Coast. Bring a bottle of wine, your favorite craft beer and a blanket or chair. Food and drinks will be available for purchase from a rotating list of local food trucks.
Gates open at 6 p.m. with concerts beginning at 7 p.m. for this come-as-you-are family-friendly outdoor concert series. Bring a lawn chair, picnic, wine, or purchase food and beverages on-site.
The 2023 concert schedule is as follows
April 20, Post Modern Jukebox
April 27, Roman Street Party Band
May 5, Ozomatli
May 11, Lucky Chops – New Day, New Tour
May 18, Yacht Rock Revue
May 25, Symphonic Soul: The Magic of the Memphis Sound – Morgan James with special guest Ryan Shaw and Sinfonia Gulf Coast
June 1, Gotta Groove Band
June 8, Adam Ezra Group
June 15, Journeyman: A Tribute to Eric Clapton
June 22, Big Bad Voodoo Daddy
General admission varies per concert. Prices range from $20 to $35 for adults. Patrons purchasing tickets in advance of the concert day will save $5 per ticket. Children 12 and under are free. A limited number of VIP tables (reserved table for eight guests for the entire season) are available for $2,250.
Purchase tickets online at MKAF.org/events.
MKAF members enjoy early entry and free admission to every concert as well as discounted pricing to other MKAF events. For more information, visit MKAF.org.
To learn more about sponsoring the 2023 MKAF season, call (850) 650-2226.