Hits: 7
The New Menus Feature Fresh, In-Season Ingredients Inspired by Florida's Gulf Coast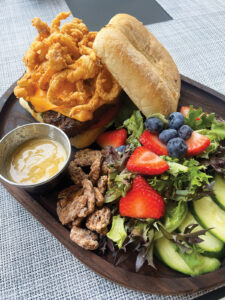 Ovide, the signature restaurant at Hotel Effie at Sandestin Golf and Beach Resort, has launched new breakfast, brunch and dinner menus highlighting the flavors of the Gulf Coast and the freshest, in-season ingredients. All menus include ample vegan, vegetarian and gluten-free options. Located steps from The Village of Baytowne Wharf, Hotel Effie's signature restaurant Ovide embraces the local food and cherished flavors of the Gulf Coast and presents them with a sophisticated and refreshing style. "We work closely with regional farmers and vendors to ensure we incorporate the freshest, most sustainable ingredients into our plates," said Hotel Effie's general manager Jim Marino.
For breakfast (Mon.-Fri. 7-11 a.m.), starters include the Summer Fruit Plate featuring berries, melons and dragon fruit; fan-favorite house-made Effie's Biscuits and Steel-Cut Oats with brown sugar, granola and blueberries. "From the Griddle" options include Brioche French Toast topped with bananas Foster and candied pecans, and Buttermilk Pancakes topped with vanilla whipped ricotta, blueberries and maple syrup.
"From the Farm" breakfast plates include Two Farm-Fresh Eggs, breakfast potatoes, a choice of meat and toast or Effie's biscuit; Summer Quiche made with zucchini, yellow squash, marinated tomatoes and feta and served with breakfast potatoes; Eggs Benedict and 3-Egg Omelet with choice of three ingredients and toast.
Breakfast "Specialties" include Biscuits and Gravy, Effie's house-made biscuits topped with sausage gravy and sunny-side eggs; Avocado Toast, sourdough topped with feta cheese, heirloom tomatoes, pickled red onions, avocado mash and pepitas; Toasted Bagel with Lox, a Black Bear sesame bagel topped with whipped cream cheese, pickled shallots, capers and cucumber; Ovide BLT; Shrimp and Grits; and Corned Beef Hash. Diners can also choose the Full Gulf Breakfast (includes a fruit plate, any entrée (excluding Lump Crab Benedict and Shrimp and Grits), bloody mary or mimosa, and coffee or tea. A limited kids menu is also available.
The brunch menu (Saturday and Sunday 7 a.m. to 2 p.m.) features many plates from the breakfast menu, plus special brunch items including starters such as the Coconut Chia Seed Parfait; Shrimp Cocktail; Emerald Coast Smoked Fish Dip; and Deviled Eggs.
A brunch-only "Specialty" is the Steak & Eggs, a New York strip steak served with grilled tomatoes, chimichurri, eggs over-easy, toasted sourdough and breakfast potatoes. A brunch-only "From the Farm" dish is the Crab Cake Benedict. There are also several salad and sandwich options. The Grand Sandestin Brunch includes a fruit plate, any entrée (exclusions apply), bloody mary or mimosa, and coffee or tea.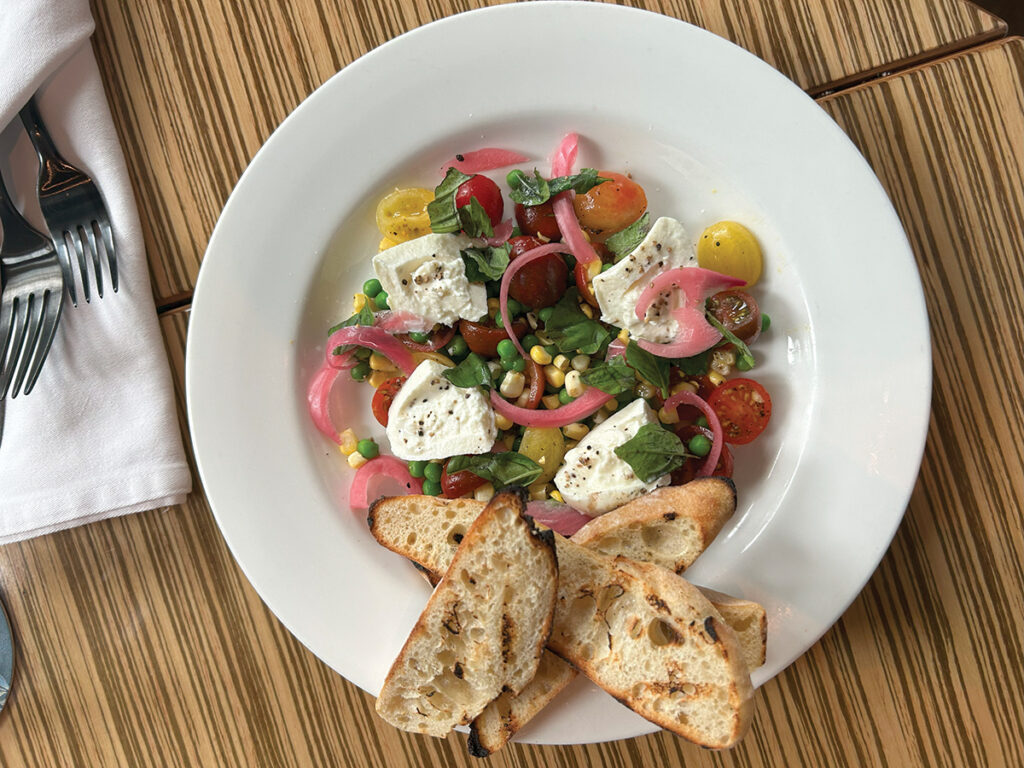 Ovide's new dinner menu ( Sun. – Thurs. 5-9 p.m. and Friday and Saturday 5-10 p.m.) includes a selection of "Snacks" including Pimento Cheese; Spinach & Artichoke Dip; Crispy Pork Ribs; and Beef Tartare. Soup and salad options include She-Crab Soup.
The dinner menu also features several Raw Bar options including Half-Shell Oysters; Classic Oysters Rockefeller; and a Seafood Platter (market price), with half-shell oysters, shrimp cocktail, smoked fish dip, snapper ceviche and crab claws. For the main course, options include Pappardelle; Grouper; Crispy Skin Snapper; Low Country Boil; and Crispy Half Chicken. Grilled options include the Berkshire Pork Chop; and Prime 16-ounce Boneless Rib-Eye.
Dinner sides include Goat Cheese Corn Casserole with goat cheese feta, peppadew and cilantro lime aioli; Charred Broccolini with jalapeno maple and lemon; Southern Collard Greens; Smoked Turkey; Whipped Potatoes with boursin cheese; and Potato Croquettes served with Effie's sauce.
Ovide is located at Hotel Effie, 1 Grand Sandestin Blvd. in Miramar Beach. Make reservations at www.hoteleffie.com/dining/ovide.