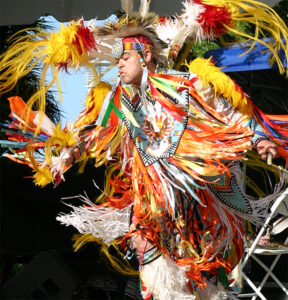 Musical Echoes Flute Festival returns to the FWB Landing, 139 Brooks St., Friday, April 21-Sunday, April 23. The festival opens at 9 a.m. each day. Join us as we once again celebrate Native American culture, art, and music. Admission is free! This is a non-alcoholic event for the entire family.
The festival features solo performers and full bands, with live music from the stage. Dancers offer colorful, rhythmic traditional dances and share the meaning of each dance. Flute-makers will collaborate with you to find your perfect flute and provide a few tips on playing as well. Visit art and craft vendors as they share their custom jewelry, baskets, leatherwork, and more. Traditional Native American fry bread and other delicious festival food add to the fun. Visit the silent auction and raffles at the main tent. Purchase the annual festival T-shirt, featuring the butterfly, this year's totem.
Internationally acclaimed authentic Native American musicians and dancers are part of the festival lineup, including Nation of Change Native American Dancers, Gareth and award-winning Shelley Morning Song. Don't miss the special performance by Michael D'Maria. A torchlight ceremony takes place Saturday at 6 p.m., featuring the Thunderbird Honor Guard and Poarch Creek Indian Traditional Dancers. Visit www.musicalechoes.org for the complete schedule.
Musical Echoes Flute Festival Inc. is a nonprofit 501c3 charitable organization run by a group of dedicated volunteers. The festival relies on funding through sponsorships and donations. To contribute, go to www.musicalechoes.org.
For more information, call (850) 685-4428 or email Tisha at tmaraj@gmail.com.