Hits: 2
Meeting Needs with Compassion for Your Well Being
By Lisa Leath Turpin, Health & Wellness Coach
Are you looking for a health and wellness clinic that truly looks at your individual needs? A place that treats the body as a whole to find a solution to overcome the root of your problem? A place to enhance your total well-being?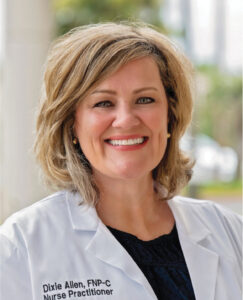 Pure Life Health and Wellness says, "It's time for a happier healthier you!" They nurture the mind, body and spirit to create balance and health. With more than two decades of healthcare expertise, Pure Life provides comprehensive health and wellness solutions by using evidence-based guidelines individualized for the circumstances of each patient. After 23 years of service in the healthcare field, Dixie Allen, FNP-C opened Pure Life Health and Wellness on May 1, 2023, with the sole purpose to genuinely care for her patients. She says she has a passion for taking care of people; "I am compassionate and have a caring bedside manner. I will not take your health concerns for granted and will help find answers or resolve. No problem too small."
Hailing from Mississippi, Dixie has permanently planted herself in Destin. She says, "You will always feel secure and welcome in my clinic. I treat my patients like family, because basically they are." Dixie combines her medical background with a holistic approach which allows her to ensure you receive not only medical attention, but also guidance on healthy lifestyle practices, stress management and emotional well-being. It is through this combination of healthcare experience and holistic philosophy that allows Pure Life to give personalized care and empower you with the knowledge you need to make informed decisions about your health. Your health and well-being is a journey, and Pure Life wants to walk it with you.
THE SERVICES:
This awesome place is a one-stop shop for all things wellness:
Medical Weight Loss plans that focus on overall well-being. Through combining cutting-edge treatments such as semaglutide and tirzepatide, targeted exercises and individualized nutrition guidance, you will be empowered to achieve sustainable results while cultivating a healthier lifestyle. From shedding a few pounds to aiming for a total transformation, Pure Life will make a program for your specific weight loss goals.
Hormone Replacement Therapy specializing in restoring hormonal harmony, addressing concerns in both men and women. Through personalized HRT plans, symptoms such as fatigue, weight gain, decreased libido, and mood fluctuations can be alleviated while focusing on precision and safety.
Primary Care such as routine check-ups, chronic disease management and guidance towards long-term wellness using a holistic approach.
Urgent Care services designed to provide you with comprehensive and immediate medical attention while upholding a holistic treatment philosophy.
Offerings at the Vitamin "Shot Bar" are Biotin, Glutathione, Lipo-Mic (fat burning and detox), Tri-immune boost, Vitamin B-12, Vitamin D3.
Remember: All vitamins, IV's and other services are tailored specifically to help your body thrive and be well from the inside out.
Proudly serving our country for eight years in the Tennessee Air National Guard, Dixie is licensed in the state of Florida, AANP nationally board-certified and holds her DOT Medical Examiner certification. Dixie credits her mother, Sandra Kelso, a retired education administrator who loves people and helps make them feel at home, for helping her get the business off the ground. Dixie says she is smart, the best southern cook ever and has supported Dixie in all of her life goals, along with her dad, husband and son, also. When you walk in the door at Pure Life, say hello to Beverly, medical receptionist/office manager and Dixie's right-hand person.
Pure Life is a special combination of kindness, medical knowledge and compassion. It's such a benefit to have a knowledgeable advocate dealing with the health of your whole body. For more information, visit purelifehealthandwellness.com.