Hits: 2
Sharing the sport of fishing with children, no matter where one lives, can be an excellent way to spend time and make long lasting memories. Whether you're fishing experience began with a cane pole using a piece of hot dog on the hook, on a boat, surf fishing, going out on a fishing party boat or love fishing off the pier— fishing adventures and legendary stories always follow and are passed down to the next generation. As we all know, some of the great fishing stories become exaggerated and funnier as the years roll by.
Told by 7-year-old Dalton Arwood, this story is about him and his GrandPa fishing. Even though Dalton doesn't realize it yet, fishing has attributed to his development, thought patterns, vocabulary, behavior, and current and future relationships. GrandPa also teaches him conservation and sportsmanship. Early on, members of his family—Daddy James, Uncle Jesse (his daddy's twin brother), Paw Paw (Phillip, recently deceased May, 2023) and "especially" his GrandPa (Mark) instilled a love for fishing. Hopefully, you'll want to pass fishing on to the children in your life, too.
Dalton's Story
Edited by Frank Berte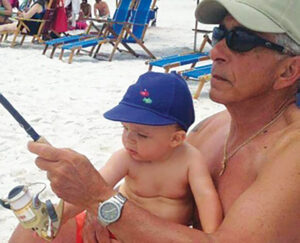 Others might know my GrandPa as Captain Mark in Destin, but he's always been GrandPa to me. He has a boat and me and others go along to fish. Everybody has been on GrandPa's boat with me. Pictures are taken with me and my daddy and anyone that's on the boat with the fish we catch. He loves to fish and knows where red fish are hiding in Destin Harbor. Daddy tells me a lot of funny stories about himself and my Uncle Jesse when they were little boys.
My Paw Paw from North Carolina, he's been with me in Destin fishing several times and taken me fishing at several lakes and ponds in North Carolina, West Virginia and Virginia. He also went fishing many times with me and my Daddy. I will remember Paw Paw fishing with me when I grow up and the stories he told me about him being a little boy. He always told jokes and taught me how to whistle. All of us have been on GrandPa's boat many times. Paw Paw just went to heaven.
GrandPa drives the boat all around Destin when we fish and there's things to see: Destin Harbor, Pirate ship, the pass, jetties where big fish are caught and kept during season, Crab Island, the Coast Guard Station and out in the Gulf of Mexico. GrandPa taught me that out in the Gulf is called off-shore fishing and other places were called inshore. We see schools of mullet and they jump all the time, ducks with 7-8 baby ducks swimming be-hind, seagulls and 1 time there was a big green turtle swimming on top of the water then it dove deep. Dolphins swim along the side of the boat and chase us. We listen to Craig Morgan songs first, then other music is played. I wear my life jacket all the time. When I was younger, Daddy said and I listened: my life jacket is very important, this is the first thing I do or look for right when I get on the boat—put it on. They keep buying me life jackets to fit better.
Sitting beside GrandPa in the First Mate's chair is my place on the boat and he calls it Dalton's Chair. Before we fish, bait fish has to be caught using Sabiki (hard and funny word to say) rigs. It's a lot of fun and gets a little crazy when all of us are catching bait fish. We use them to catch larger fish later. You can only keep fish that are in season and size limit. They say about the fish we catch: short, out of season, in the slot fish or keeper. There's many good fish I'd like to keep, but can't. At least, I have my picture taken with every fish I catch. It's a good idea to reel up your fish fast. If I don't and there's dolphins hanging out around the boat while fishing, they have eaten a big bite off of my fish. One time when fishing, I caught a big Amber Jack. Then, a hungry bull shark came up and ate the entire fish in one bite! My favorite fish to catch is Red Snapper. My favorite type of fish to eat is any type of big and tasty fish cooked any way.
GrandPa always is checking the weather at night before the next morning or the morning we're going out on the boat. Out in the Gulf, the waves are called swells. When weather says big swells, GrandPa says, "No, we can't go out on the boat today my Little Man." When there's a chance for bad weather, GrandPa always has a backup plan which is every time — we end up at Half Hitch Tackle. The store is close by and in Destin. The guys who work there gave me the greatest nickname of "Bait," because I'm there a lot with GrandPa.
At Harbor Walk, happy strangers on vacation wave at me, because I'm GrandPa's Little Fishing Buddy. There's a good feeling from fishing and once you fish you will feel it like me. The guys in my family have it, too. It's called "Fishing Fever." I never want the thrill of fishing to go away. It's an awesome feeling to like fishing. I love being on the Gulf waters in Destin. We say "fish on" all the time. I like yelling, "I have a fish, again"! Afterwards, GrandPa tells people I caught the biggest fish or more fish, but I know that's not true and I didn't. He just loves me a lot and wants to brag about me. The guys on the boat have always told me, it might be a good idea when you get older—pick a girl to date that loves the sport of fishing. There's always a lot of laughing.
When I'm older, I want nothing to change about going fishing in Destin. The Gulf water is clear emerald green and you can see fish and the bottom. My friends will come and one day my wife and children (this is what they tell me). We'll go the same way and see the same things like we did when I was a little boy on Grand-Pa's boat. I want everybody to know that I like fishing with my family and friends. I would like everybody to go fishing, too.
Happy Fishing!