Hits: 3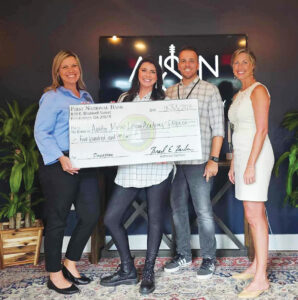 A long-awaited, new branch of First National Bank (FNB) has opened its doors on Scenic Gulf Drive in Miramar Beach. Todd Scali, Market President, is excited about the opportunities the Miramar Beach location will provide to customers in our region.
As part of its core values, FNB's long history of community involvement and dedication to a community's growth and development can already be seen locally. At the bank's recent ribbon-cutting and grand opening ceremony, FNB decided to give back to our community by making contributions to local charitable organizations. FNB awarded $500 to three, non-profit organizations in the Destin/Miramar Beach area:
Austin's Music Lesson Academy – $500
Path of Grace – $500
Fore Her Breast Cancer Foundation – $500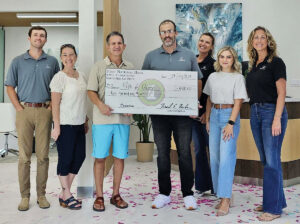 To be considered for the donation, a representative from each organization was asked to attend the grand opening event and sign-up in person. Once nominated, an online poll was conducted through a dedicated link on the bank's social media platforms, allowing community members to vote for their preferred organization from June 27th to July 3rd. The top three organizations with the greatest number of votes each received a $500 donation from First National Bank.
But, First National Bank didn't stop there. Since 13 non-profit organizations applied and participated, to show further commitment to the community, the additional 10 non-profits also walked away with a monetary award. "They were all winners!" said Todd, "2,242 votes were received! $3,300 total was awarded!"
A Bed 4 Me – $250
Be Generous Inc. – $250
Habitat For Humanity of Walton County – $250
Junior League of Emerald Coast – $250
American Foundation for Suicide Prevention – $200
Hosanna House – $200
Destin Charity Wine Auction Foundation – $100
Mission of Compassion – $100
Spreading the Good News, Inc. – $100
United Way of Emerald Coast – $100
"Being involved and doing our part in the local community only contributes to a thriving community," said Todd. "We truly care about the communities we serve."
You can reach First National Bank Miramar Beach at (850) 608-2088 or visit fnbdc.com.