By Christopher Manson
"May the Lord bless you, and keep you; the Lord make His face shine upon you and be gracious to you; the Lord lift up His countenance upon you and give you peace."
– Numbers 6: 24-26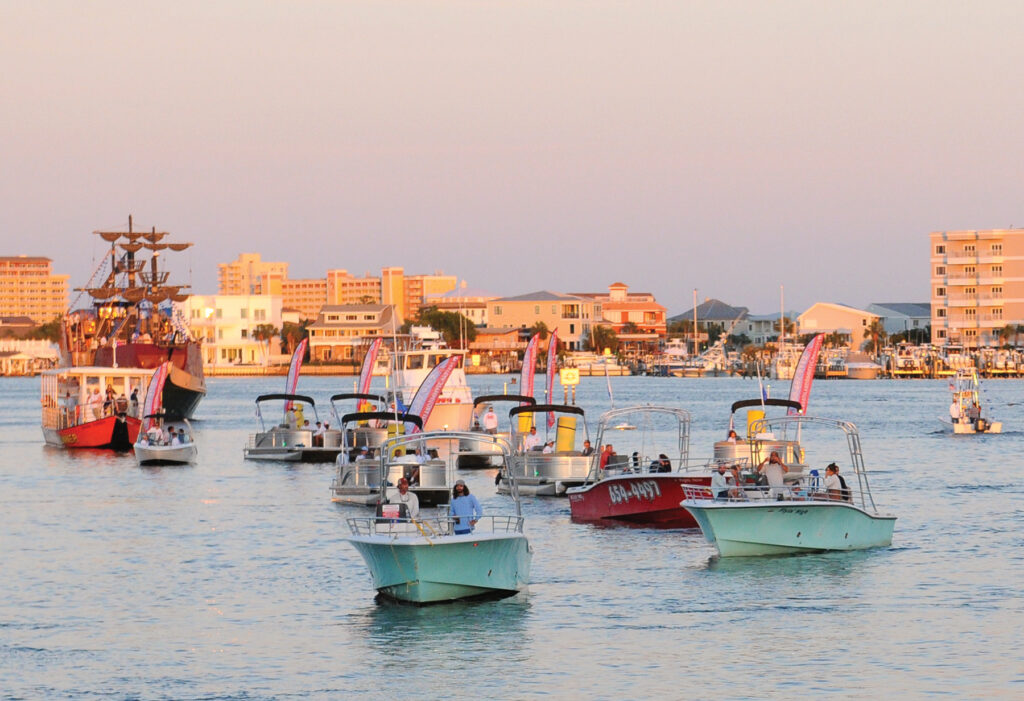 According to Immanuel Anglican Church's Reverend Caleb A. Miller, Destin's annual Blessing of the Fleet began in May 1958. "Reverend William Erwin stated the intent behind the event was to ask the Lord to bless the labor of those making their living on the Gulf and waters, and that God would keep them in safety," he says.
Rev. Miller has been a part of the Blessing of the Fleet since 2014. He says the Blessing launched with 12 to 15 fishing vehicles and has grown to more than 150 watercrafts. "Now we bless charter fishing, parasailing, law enforcement, Coast Guard, snorkeling, pontoon, sailboats, pirate boats and, it seems like, everything in between.
"The event has always been held 40 days after Easter for a specific reason – to worship Jesus, crucified and risen, on the Day of his Ascension. After Jesus' crucifixion and resurrection, (He) ascended into heaven in victory, to reign and to intercede on our behalf. And so, while we have gathered to bless the fleet, we have gathered primarily to worship the Ascended Christ."
This year marks the Blessing's 66th anniversary, and the event – part of Destin's Week of Blessings – will be held Thursday, May 18, at 4 p.m. on the Destin Harbor behind Brotula's. The City of Destin will waive parking fees at the Marler Street Parking Lot for the event.
This year's participating churches are Immanuel Anglican Church, Shoreline Church, Destin United Methodist Church, Coastline Calvary Chapel, The Summit Church, Safe Harbor Presbyterian Church, Impulse Church, Village Baptist Church, Impact Life Church and Destin Assembly of God.
Michelle Terry currently serves as president of the Church of Destin, which puts on the Week of Blessings. She describes the collective of local places of worship as "one church, many congregations." Ms. Terry was born and raised here and became a member of the board two years ago.
It's the 20th anniversary of the Week of Blessings, started by Mel Ponder, Captain Mike Parker, Father Mike Hesse and Pastor Paul Kummer. Pastor Kummer will be speaking at this year's Blessing of the Marketplace.
"We're excited about bringing Pastor Paul in," says Ms. Terry. "He had a great vision for the unification of the churches. We believe the Week of Blessings is part of what makes our community special."
Capt. Parker agrees, calling the week "a real blessing to the community as we come together. We are promoting unity among all the people of Destin." Father Hesse had asked Capt. Parker to pray at the Blessing of the Fleet two decades ago "and I thought, 'Why can't we do this for the rest of the community, too?"
"The most rewarding thing to me is getting to serve the pastors and community with the love of Christ with no agenda and no strings attached, other than to bless people," says Ms. Terry.
Fun Fleet Facts
In 2016, 152 boats were blessed.
In 2017, 152 boats were blessed.
In 2014, 140 boats were blessed.
In 2019, after Memorial Day weekend, 134 boats were blessed.
In 2020, 131 boats were blessed. No public service or fish fry was held, due to COVID-19.
In 2021, 140 boats were blessed.
Last year, at the start of Memorial Day weekend, 134 boats were blessed.
Week of Blessings Schedule
Sunday, May 14
Blessing of the Families
"Intentional blessings made over families in our community during Sunday services."
Monday, May 15
Day of Prayer and Fasting
"Pray for your neighbors, your community, the leaders of our nation, and our world."
Tuesday, May 16
Community and First Responders Outreach
"Blessing of local government and first responders with a treat provided by Church of Destin."
Wednesday, May 17
Blessing of the Marketplace
200 Beach Drive, 11:30 a.m.-1:30 p.m.
"The business community is invited to worship together and be blessed. Pastor Paul Kummer will speak." Lunch to be provided.
Blessing of the Youth
Destin Life Center, 200 Beach Drive, 5-7 p.m.
"Families and kids of all ages are invited for a night of blessings, food trucks, inflatables and games."
Thursday, May 18
Sixty-Sixth Blessing of the Fleet
210 Harbor Blvd. (Behind Brotula's Seafood House and Steamer), 4 p.m.
Prayer and worship service with Boat Blessing to follow immediately. Boats used to earn a living on the sea are invited to register by calling 850.837.6324. The event begins with a Captains' Worship and Prayer Service under a large tent. Around 5:15, clergy will bless preregistered vessels, and a community fish fry (meal donation suggested) will take place. The latter is made possible by Ariel Seafood and Brotula's.
Friday, May 19
Random Acts of Kindness
"Share the love of Jesus by practicing random acts of kindness throughout of community. Leave big tips, lend a helping hand, and give generously of your time and resources."
Learn more – and donate! – at Destinblessings.com. Donate by mail by sending a check or money order to The Church of Destin, P.O. Box 1077, Destin, Florida 32540.
Visit their Facebook page or email churchofdestin@gmail.com.