Hits: 3
The 3rd Annual Wentz Brothers' Festival of Fears Continues to Become Bigger & Better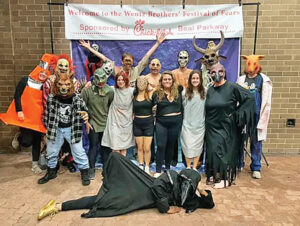 The Wentz Brothers invite one and all to their third annual Festival of Fears haunted attraction in Fort Walton Beach. This year's event promises to be bigger and better than the last, opening in a new facility at the Santa Rosa Mall. The new location boasts over 80,000 square feet, leaving the Wentz Brothers, Alex and Andrew, with plenty of room to continue growing the Festival of Fears into "the Gulf Coast's premier haunted attraction."
The 2023 haunt season will introduce guests to a number of new characters, offerings and attractions you won't want to miss. The Festival of Fears will host three all-new, original haunted houses alongside new and improved horror-themed midway games, two haunted,
15-minute escape rooms, a spooky gift shop, food trucks and an expanded bar serving a variety of drinks from alcohol to event-exclusive Fear Potions. The Wentz Brothers also plan to host a number of new events held throughout the season such as the inaugural Drop Dead Disco costume party, two Family Day events, and a special surprise for Friday the 13th.
Keeping with the Festival of Fears' tradition of changing haunted house themes each season, 2023 will boast three unique, haunted house concepts and styles. The first, Beasts of the Bayou, will transport guests into a backwoods marsh never explored by man, but home to a bevy of hideous and hungry monsters. Next, Nightmare Menagerie will have guests venture into an abandoned, roadside zoo that has now become home to a new breed of evil. And finally, guests will step under the big top to see the newest additions to the Collector's horrifying horde in Into The Festival Of Fears: The Secret Show. Additionally, guests can test their nerves and their wits in two new, haunted, 15-minute escape rooms — Lazarus Toys: No Escape and Experiments In Evil: Razorback's Revenge.
The Festival of Fears is located in the old JC Penney's building at Santa Rosa Mall and is open select nights from September 15th to November 4th. Haunting hours start at 6 p.m. sharp with a special pre-show to kick things off — so don't be late. Guests who book their tickets for any night in September will receive $5 off general admission or $10 off express entry or VIP passes using the promo code: SEPTEMBER at checkout. Tickets can be purchased at the door or online at www.wbfestivaloffears.com.
Sea Shul Rings in Jewish New Year with Community and Waves
Sea Shul, the new vibrant Jewish community in Florida's 30A region, has announced its inaugural Rosh Hashanah celebration, "New Year, New Tide," including a beachside service and semi-formal dinner Saturday, September 16th, at Watersound Beach Club.
As part of Sea Shul's Rosh Hashanah weekend festivities, the event aims to offer an extraordinary experience for community members to engage in the spirit of togetherness and belonging.
Starting at 6 p.m. with a beachside service led by Rabbi Joshua Lesser, the night then transitions into a delightful Rosh Hashanah dinner at 7 p.m. featuring a range of entrees catering to all tastes, including traditional Rosh Hashanah dishes such as Challah, apples and honey, and wine.
Rabbi Joshua Lesser remarked, "A Jewish New Year brings with it hope and a promise of new beginnings, and so does the creation of Sea Shul. Sea Shul emphasizes the importance of community, finding our place, and connecting with people because it nourishes our souls. As we usher in a New Year, we welcome new friendships and a sense of belonging. Rosh Hashanah at Sea Shul is not just an event but the foundation of a collective journey.
General Admission is $150 for Adults (Ages 11+), $65 for Children (ages 4-10) and Age 3 and Under Free. Purchase tickets at https://seashulRH2023.eventbrite.com.
"Sea Shul is not just a community, it's a vibrant catalyst for unity and connection," explained Micah Davis, Interim President of Sea Shul. "As we welcome Rosh Hashanah, we're not only celebrating a new year, but the start of an exciting chapter for Sea Shul. We're crafting a dynamic future where every member feels a profound sense of belonging and becomes a key part of our collective journey. Together, we'll foster an environment that embraces warmth, friendship and forward-thinking growth."
In addition to the "New Year, New Tide" event, Sea Shul has organized an array of activities for the Rosh Hashanah weekend including a potluck dinner on the first night, Mind and Movement prayer service, and Tashlich service that will be open to the community.
For more information, visit facebook.com/seashul or contact shalom@seashul.com.
Seagar's: An Evening with Laura Benanti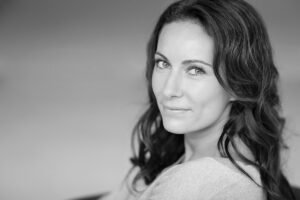 Tony Award-winning Broadway, film and TV star Laura Benanti will headline Sinfonia Gulf Coast's Cabaret at Seagar's Prime Steakhouse at the Hilton Sandestin Beach Resort and Spa on Wednesday, Sept. 27. This one-night-only benefit begins with a reception at 5:30 p.m. followed by a four-course dinner curated by executive chef Fleetwood Covington and a live performance starring Laura Benanti.
Hailed by The New York Times for her "effortless" vocals, and by the New York Post for her ability to "whip up laughs out of thin air," Benanti first took Broadway by storm at the age of 18 as Maria in The Sound of Music. (You may recognize her for her role of Baroness Elsa in the live 2013 televised version with Carrie Underwood on NBC.) Subsequently, she starred in 10 more Broadway shows (musicals, straight plays, comedies, and dramas) including Into the Woods, Nine (opposite Antonio Banderas), Gypsy (for which she won a Tony Award), She Loves Me, My Fair Lady, and Steve Martin's Meteor Shower opposite Amy Schumer and Keegan Michael Key.
Ticket prices for Cabaret at Seagar's: An Evening with Laura Benanti are $295 per person and include valet, a four-course dinner, wine, gratuity, and live performance.
Proceeds benefit Sinfonia Gulf Coast and its music education and community engagement initiatives throughout Northwest Florida. Full table reservations are available, and a limited number of sponsorship opportunities remain. Purchase tickets online at SinfoniaGulfCoast.org or by calling the box office at (850) 460-8800.
MKAF Kicks Off 2023 Fall Season With Salt Water Music Fest
Presented by Salt Water Vacations and MKAF, The first-ever Salt Water Music Fest brings music lovers a sensational three-day music showcase celebration to raise funds and awareness for MKAF — Destin's champion of the cultural arts for all. The two-day music festival is Thursday, Oct. 12, and Friday, Oct. 13 at MKAF's Cultural Arts Village in Destin with a singer/songwriter brunch to follow on Sunday, Oct. 14 at Soleil in Destin.
Grammy-winning pop songstress Macy Gray, best known for her international hit single I Try, headlines the Festival on Thursday, Oct. 12. Joining this captivating, eclectic R&B talent on stage is her band, The California Jet Club, performing hot tracks from her newest album, The Reset.
The event will also feature an evening of five of Nashville's hottest singer/songwriters including Ben Burgess, Jared Mullins, Jordan Minton, Jordan Reynolds, the Josh Mirenda Band along with headliner country music duo LOCASH. Music lovers can meet and greet many of the singer/songwriters during Brunch at Soleil on Saturday, Oct. 14. The event will include multiple food trucks, beverage bars, merchandise retail sales as well as artist meet & greets (for some ticket levels).
Advance tickets are priced from $50 per person. General admission lawn seating and table seating will be available for individuals. Full tables (seating eight) are available starting from $750. VIP Tables are from $1,500 and include prime seating, VIP tent access, drink coupons, a cash bar, onsite VIP parking passes, and more. Purchase tickets online at mkaf.org.